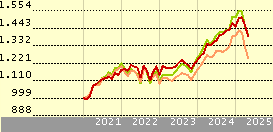 Fonds
21,9
1,1
8,8
7,2
5,5
+/-Cat
6,7
5,0
0,0
-0,1
0,4
+/-Idx
2,5
0,6
-3,3
-5,2
-1,2
 
Benchmark: Cat 25%Barcalys US Agg TR&7...
Kerngegevens
Koers
21/07/2014
 
USD 6101,59
Rendement 1 Dag
 
0,25%
Morningstar Categorie™
 
Mixfondsen USD Offensief
ISIN
 
LU0068578508
Grootte Fonds (Mil)
18/07/2014
 
USD 7347,18
Grootte Fondsklasse (Mil)
18/07/2014
 
USD 2200,87
Aankoopkosten (Max)
 
5,00%
Total Expense Ratio
28/02/2013
 
2,27%
Gesloten voor nieuwe beleggers
 
nee
Despite high fees, the fund delivers.

Amundi changed the fund's performance fee calculation for the better in 2011, but its TER remains among the highest in the category. Despite that hurdle, the fund's positive traits should continue to keep it...
Klik hier voor het analistenrapport
Beleggingsdoelstelling: First Eagle Amundi International Fund Class AU-C Shares
Het Compartiment streeft ernaar beleggers kapitaalgroei aan te bieden door middel van een diversificatie van zijn beleggingen over alle activacategorieën en door een beleid van 'waardebenadering' te volgen.
Returns
| | |
| --- | --- |
| Rendementen % | 21/07/2014 |
| YTD | 7,13 |
| 3 Jaar geannualiseerd | 9,04 |
| 5 Jaar geannualiseerd | 11,52 |
| 10 Jaar geannualiseerd | 7,10 |
Management
Naam manager
Aanvangsdatum
Abhay Deshpande
01/03/2009
Matthew McLennan
01/09/2008
Click here to see others
Oprichtingsdatum
12/08/1996
Benchmark
Benchmark van het fonds
Benchmark Morningstar
Geen Benchmark
Cat 25%Barcalys US Agg TR&75%FTSE Wld TR
Waar belegt het fonds in?  First Eagle Amundi International Fund Class AU-C Shares
28/02/2014
Morningstar Style Box®
Stijl aandelen
Morningstar Style Box®
Stijl vastrentend

Assetverdeling
 
% Long
% Short
% Netto
Positie
Aandelen
71,93
0,00
71,93
Obligaties
0,01
0,00
0,01
Kas/geldmarkt
70,34
46,49
23,85
Overig
4,22
0,00
4,22
Vastrentend Portefeuillestatistieken
Effectieve Looptijd
-
Duration
-

| | |
| --- | --- |
| Top 5 regio's | % |
| Verenigde Staten | 44,47 |
| Japan | 18,63 |
| West Europa – Euro | 15,72 |
| Canada | 7,60 |
| Verenigd Koninkrijk | 4,09 |
Top 5 sectoren
%
Geen data beschikbaar