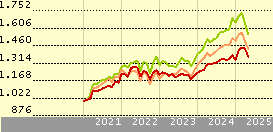 Fonds
6,5
12,0
17,0
12,5
2,1
+/-Cat
-5,1
-3,3
2,0
4,4
2,0
+/-Idx
-4,0
-4,6
0,3
4,6
-1,3
 
Benchmark: MSCI World High Dividend Yi...
Kerngegevens
Koers
24/06/2016
 
EUR 160,70
Rendement 1 Dag
 
0,43%
Morningstar Categorie™
 
Aandelen Wereldwijd Dividend
ISIN
 
LU0507266061
Grootte Fonds (Mil)
24/06/2016
 
EUR 4269,76
Grootte Fondsklasse (Mil)
24/06/2016
 
EUR 811,82
Aankoopkosten (Max)
 
5,00%
Lopende Kosten Factor
31/03/2016
 
1,58%
Gesloten voor nieuwe beleggers
 
nee
Analyst Report
By focussing on quality companies that are able to pay out sustainable and preferably growing dividends, while managing downside risks carefully, this fund fits well as a core holding in an investors' portfolio. The experienced Thomas Schüssler...
Klik hier voor het analistenrapport
Pijlers Morningstar
Team
Positive
Fondshuis
Neutral
Proces
Positive
Rendement
Positive
Kosten
Positive
Beleggingsdoelstelling: Deutsche Invest I Top Dividend LD
Deutsche Invest I Top Dividend biedt aandelenbeleggingen met de mogelijkheid van lopende inkomsten. Het beheer belegt wereldwijd in aandelen waarvan een hogere dividendopbrengst verwacht wordt dan het marktgemiddelde.
Returns
| | |
| --- | --- |
| Rendementen % | 24/06/2016 |
| YTD | 2,40 |
| 3 Jaar geannualiseerd | 12,85 |
| 5 Jaar geannualiseerd | 11,24 |
| 10 Jaar geannualiseerd* | 7,40 |
| | | |
| --- | --- | --- |
| Dividendrendement |   | 2,68 |
| Dividendfrequentie |   | Jaarlijks |
Management
Naam manager
Aanvangsdatum
Thomas Schüssler
01/07/2010
Stephan Werner
01/02/2015
Oprichtingsdatum
01/07/2010
Benchmark
Benchmark van het fonds
Benchmark Morningstar
Not Benchmarked
MSCI World High Dividend Yield NR USD
Waar belegt het fonds in?  Deutsche Invest I Top Dividend LD
30/04/2016
Morningstar Style Box®
Stijl aandelen
Assetverdeling
 
% Long
% Short
% Netto
Positie
Aandelen
87,52
0,00
87,52
Obligaties
3,85
0,00
3,85
Kas/geldmarkt
8,63
0,00
8,63
Overig
0,00
0,00
0,00
| | |
| --- | --- |
| Top 5 regio's | % |
| Verenigde Staten | 47,36 |
| West Europa – Euro | 14,59 |
| West Europa – Niet Euro | 11,08 |
| Verenigd Koninkrijk | 8,81 |
| Japan | 6,87 |
Top 5 sectoren
%
Defensieve Consumptiegoederen
29,39
Communicatiediensten
15,16
Gezondheidszorg
13,71
Nutsbedrijven
10,38
Financiële Dienstverlening
9,78