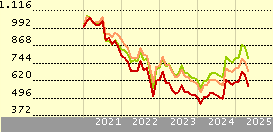 Fonds
23,0
-20,0
15,9
21,0
6,3
+/-Cat
10,1
0,6
2,2
17,4
-1,0
+/-Idx
11,1
-4,3
-5,0
21,9
-6,3
 
Benchmark: MSCI China NR USD
Kerngegevens
Koers
17/09/2014
 
USD 23,06
Rendement 1 Dag
 
1,31%
Morningstar Categorie™
 
Aandelen China
ISIN
 
IE00B1W3WR42
Grootte Fonds (Mil)
17/09/2014
 
USD 2387,86
Grootte Fondsklasse (Mil)
16/09/2014
 
USD 1430,00
Aankoopkosten (Max)
 
5,00%
Lopende Kosten Factor
30/06/2014
 
1,55%
Gesloten voor nieuwe beleggers
 
nee
Analyst Report
GAM Star China Equity is an attractive proposition, with one of the most competitive fees of its peer group. Despite the low fee, this is anything but an index-tracking option.

Portfolio Manager Michael Lai joined GAM in 1998 and has managed...
Klik hier voor het analistenrapport
Pijlers Morningstar
Team
Neutral
Fondshuis
Neutral
Proces
Neutral
Rendement
Positive
Kosten
Positive
Beleggingsdoelstelling: GAM Star China Equity USD Acc
GAM Star China Equity streeft ernaar om over een volle markt cyclus sterke, risicobijgestelde, returns te leveren door te beleggen in bedrijven met activa in, of die opbrengsten creëren in, China en Hong Kong. Het fonds wordt beheerd door GAM's toegewijde Asian Equity team, dat de unieke karakteristieken van de locale economieën binnen de 'Greater China' regio herkent. Investment Director Michael Lai en Senior Fund Manager Mansfield Mok hebben samen meer dan 36 jaar ervaring in China en hun team heeft een lange kennis van vele bedrijven in de regio. Het team gelooft dat de Chinese beurzen, zoals de rest van de Aziatische aandelen markten, relatief inefficiënt zijn. Aandelen worden vaak verkeerd gewaardeerd, vooral in de mid-cap sector waar de analisten dekking slecht is. Dit maakt het mogelijk voor 'stock pickers' met locale kennis en een actieve benadering dat zich richt op economische grondbeginselen op de lange termijn waarde te creëren.
Returns
| | |
| --- | --- |
| Rendementen % | 17/09/2014 |
| YTD | 5,49 |
| 3 Jaar geannualiseerd | 14,16 |
| 5 Jaar geannualiseerd | 13,25 |
| 10 Jaar geannualiseerd | - |
Management
Naam manager
Aanvangsdatum
Michael Lai
09/07/2007
Oprichtingsdatum
09/07/2007
Benchmark
Benchmark van het fonds
Benchmark Morningstar
MSCI China NR USD
MSCI China NR USD
Waar belegt het fonds in?  GAM Star China Equity USD Acc
31/08/2014
Morningstar Style Box®
Stijl aandelen
Assetverdeling
 
% Long
% Short
% Netto
Positie
Aandelen
97,24
0,00
97,24
Obligaties
0,00
0,00
0,00
Kas/geldmarkt
2,01
0,25
1,76
Overig
1,00
0,00
1,00
| | |
| --- | --- |
| Top 5 regio's | % |
| Azië - Emerging | 79,05 |
| Azië - Ontwikkeld | 20,95 |
| Verenigde Staten | 0,00 |
| Japan | 0,00 |
| Australazië | 0,00 |
Top 5 sectoren
%
Geen data beschikbaar