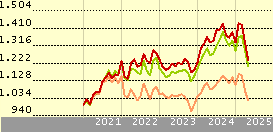 Fonds
9,0
8,9
14,8
37,3
41,3
+/-Cat
-2,9
5,1
-1,0
8,7
7,0
+/-Idx
-0,5
-4,2
-0,9
6,9
6,8
 
Benchmark: MSCI World/Health Care NR USD
Kerngegevens
Koers
28/01/2015
 
EUR 30,62
Rendement 1 Dag
 
0,82%
Morningstar Categorie™
 
Aandelen Sector Farmacie & Gezondheid
ISIN
 
LU0171307068
Grootte Fonds (Mil)
31/12/2014
 
USD 2994,17
Grootte Fondsklasse (Mil)
28/01/2015
 
USD 2391,17
Aankoopkosten (Max)
 
5,00%
Lopende Kosten Factor
19/12/2014
 
1,82%
Gesloten voor nieuwe beleggers
 
nee
Analyst Report
BGF World Healthscience is a solid proposition but there are more compelling offerings in the sector.

Erin Xie took over responsibility of this fund in April 2011 when her predecessor Robert Hodgson stepped down. She has more than 14 years'...
Klik hier voor het analistenrapport
Pijlers Morningstar
Team
Neutral
Fondshuis
Neutral
Proces
Positive
Rendement
Neutral
Kosten
Neutral
Beleggingsdoelstelling: BlackRock Global Funds - World Healthscience A2 (EUR)
Het Fonds streeft naar een maximaal rendement op uw belegging via een combinatie van kapitaalgroei en inkomsten uit de activa van het Fonds. Het Fonds belegt ten minste 70% van zijn totale activa in aandeleneffecten (bijv. aandelen) van bedrijven die voornamelijk economisch actief zijn in gezondheidszorg, farmaceutica, medische technologie en benodigdheden en de ontwikkeling van biotechnologie.
Returns
| | |
| --- | --- |
| Rendementen % | 28/01/2015 |
| YTD | 10,03 |
| 3 Jaar geannualiseerd | 33,39 |
| 5 Jaar geannualiseerd | 23,08 |
| 10 Jaar geannualiseerd | 12,93 |
Management
Naam manager
Aanvangsdatum
Erin Xie
01/04/2011
Thomas Callan
01/04/2011
Oprichtingsdatum
06/04/2001
Benchmark
Benchmark van het fonds
Benchmark Morningstar
MSCI World/Health Care NR USD
MSCI World/Health Care NR USD
Waar belegt het fonds in?  BlackRock Global Funds - World Healthscience A2 (EUR)
31/12/2014
Morningstar Style Box®
Stijl aandelen
Assetverdeling
 
% Long
% Short
% Netto
Positie
Aandelen
98,66
0,00
98,66
Obligaties
0,00
0,00
0,00
Kas/geldmarkt
1,07
0,00
1,07
Overig
0,27
0,00
0,27
| | |
| --- | --- |
| Top 5 regio's | % |
| Verenigde Staten | 76,73 |
| West Europa – Euro | 8,44 |
| West Europa – Niet Euro | 7,66 |
| Verenigd Koninkrijk | 3,21 |
| Midden-Oosten | 1,58 |
Top 5 sectoren
%
Gezondheidszorg
98,96
Technologie
1,04