EdR Global Convertibles B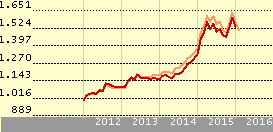 Fonds
-
15,7
-7,2
10,1
4,4
+/-Cat
-
0,6
-2,4
0,7
-1,4
+/-Idx
-
-1,3
-5,8
0,5
-0,9
 
Index: UBS Global Focus Hedged CB TR USD
| | |
| --- | --- |
| Rendementen % | 16/05/2013 |
| YTD | 9,19 |
| 3 Jaar geannualiseerd | 3,31 |
| 5 Jaar geannualiseerd | - |
| 10 Jaar geannualiseerd | - |
Benchmark
Benchmark van het fonds
UBS Global Focus Vanialla Hedge EUR

Benchmark Morningstar
UBS Global Focus Hedged CB TR USD
Kerngegevens
Morningstar
Analyst Rating™
 
Not currently rated by Morningstar Analysts
Morningstar Rating™
 
Morningstar Categorie™
 
Converteerbare Obligaties Wereldwijd USD Hedged
ISIN
 
FR0010809251
Koers
16/05/2013
 
USD 118,58
Rendement 1 Dag
 
0,83%
Grootte Fonds (Mil)
-
 
-
Grootte Fondsklasse (Mil)
16/05/2013
 
USD 33,42
Aankoopkosten (Max)
 
3,00%
Total Expense Ratio
-
 
-
Verkoopkosten
 
-
Gesloten voor nieuwe beleggers
 
nee
Oprichtingsdatum
 
12/10/2009

Naam manager

Aanvangsdatum

Kris Deblander

17/07/2009

Cristina Jarrin

01/11/2010
Beleggingsdoelstelling: EdR Global Convertibles B
De beheersdoelstelling van het Fonds is, over een aanbevolen beleggingshorizon van meer dan 3 jaar, een hoger rendement te realiseren dan zijn referentie-index, de UBS Global Focus Vanilla Hedged (EUR) CBindex voor de deelnemingsrechten in euro en de UBS Global Focus Hedged (USD) CB-index voor de deelnemingsrechten in USD, door hoofdzakelijk converteerbare of omwisselbare obligaties te selecteren. Het Fonds streeft een optimalisering van de risico-rendementverhouding na via een diversificatie van de potentiële winstfactoren: onderliggende waarde, sector, coupon, emittent, rente, valuta, aan de hand van een systematische analyse van de verschillende blootstellingen.
| | |
| --- | --- |
| Waar belegt het fonds in?  EdR Global Convertibles B | 31/12/2012 |
Vastrentend Portefeuillestatistieken
Effectieve Looptijd
-
Duration
-
Morningstar Style Box®
Stijl vastrentend
Assetverdeling
 
% Long
% Short
% Netto
Positie
Aandelen
0,00
0,00
0,00
Obligaties
6,57
0,00
6,57
Kas/geldmarkt
1,44
0,00
1,44
Overig
92,69
0,70
91,99
EdR Global Convertibles B
*  All performances shown for this USD denominated fund in this website are expressed in Swiss Franc. If you want to see the USD based performance, please visit our UK website.
| | |
| --- | --- |
| Groei van EUR 1000 (EUR) | 30/04/2013 |
| | |
| --- | --- |
| | Fonds:  EdR Global Convertibles B |
| | Categorie:  Converteerbare Obligaties Wereldwijd USD Hedged |
| | Index:  UBS Global Focus Hedged CB TR USD |
Rendement per kalenderjaar
30/04/2013
 
2010
2011
2012
30/04
Rendement (%)
15,72
-7,18
10,08
4,43
+/- Categorie
0,63
-2,45
0,67
-1,35
+/- Index
-1,26
-5,79
0,52
-0,94
% Ranking binnen categorie
36
89
44
85
Rendementen %
16/05/2013
 
 Rendement %
  +/- Categorie
  +/- Index
1 Dag
0,83
  -0,05
0,01
1 Week
2,01
  -0,34
0,33
1 Maand
4,62
  -2,13
-1,58
3 Maand
7,66
  -3,11
-2,31
6 Maand
8,26
  -3,49
-2,14
YTD
9,19
  -3,14
-1,82
1 Jaar
13,50
  -2,18
-2,37
3 Jaar geannualiseerd
3,31
  -1,79
-2,80
5 Jaar geannualiseerd
-
  -
-
10 Jaar geannualiseerd
-
  -
-
 
Categorie: Converteerbare Obligaties Wereldwijd USD Hedged
Index: UBS Global Focus Hedged CB TR USD
Kwartaalrendementen
30/04/2013
 
Kwartaal 1
Kwartaal 2
Kwartaal 3
Kwartaal 4
2013
6,10
-
-
-
2012
5,68
0,92
3,69
-0,47
2011
-1,15
-4,06
-5,37
3,42
2010
9,43
4,25
-3,27
4,87
 
 
 
Morningstar Rating™(Relatief t.o.v. Categorie)
30/04/2013

| | | | |
| --- | --- | --- | --- |
|   | Morningstar Rendement | Morningstar Risico | Morningstar Rating™ |
| 3 Jaar | Benedengemiddeld | Bovengemiddeld | |
| 5 Jaar | - | - | Geen Rating |
| 10 Jaar | - | - | Geen Rating |
| Overall | Benedengemiddeld | Bovengemiddeld | |

 
Categorie :  Converteerbare Obligaties Wereldwijd USD Hedged
Meer over Morningstar Methodogie
Risico versus rendement
30/04/2013

 
Std Deviatie
8,25 %
3Jr Gemiddeld rendement
3,62 %

 
Statistieken moderne portefeuilletheorie
30/04/2013
30/04/2013
 
Standaard Index
Best Fit Index
 
UBS Global Focus Hedged CB TR USD
  Red Rocks Gbl Listed Private Eqty TR EUR
3 Jr R²
95,59
90,71
3 Jr Beta
1,20
0,38
3 Jr Alpha
-3,53
-2,36
 
Stijl vastrentend
-

Morningstar Style Box®
Stijl vastrentend

| | |
| --- | --- |
| Omvang | Rel t.o.v. Cat |
| Tot. Marktwaarde (mil.) | EUR 397 |

Verdeling naar looptijd
%
1 tot 3 jaar
25,55
3 tot 5 jaar
38,75
5 tot 7 jaar
8,38
7 tot 10 jaar
0,38
10 tot 15 jaar
1,21
15 tot 20 jaar
6,55
20 tot 30 jaar
7,89
Meer dan 30 jaar
0,00

| | |
| --- | --- |
| Effectieve Looptijd | - |
| Duration | - |

Verdeling naar kredietkwaliteit
%
 
 
%
AAA
0,00
 
BB
-
AA
-
 
B
-
A
-
 
Below B
-
BBB
-
 
Geen Rating
-
 
Categorie: Converteerbare Obligaties Wereldwijd USD Hedged
 
% Long
% Short
% Netto
Positie
Aandelen
0,00
0,00
0,00
Obligaties
6,57
0,00
6,57
Kas/geldmarkt
1,44
0,00
1,44
Overig
92,69
0,70
91,99
| | |
| --- | --- |
| Top 10 Posities | 31/12/2012 |
| | |
| --- | --- |
|   | Portefeuille |
| Totaal aantal aandelenposities | 0 |
| Totaal aantal obligatieposities | 4 |
| % van vermogen in Top 10 posities | 27,95 |
Naam
Sector
Land
% van het vermogen
Microsoft 144A Cv
Verenigde Staten
5,96
Intel Cv 2.95%
Verenigde Staten
4,00
Siemens Financier ([Wts/Rts])
Nederland
2,77
Ares Cap Cv 5.75%
Verenigde Staten
2,53
Parpublica Cv 5.25%
Portugal
2,21
Peugeot Sa Cv 4.45%
Frankrijk
2,18
Health Care Reit Cv 3%
Verenigde Staten
2,12
Hong Kong Exchange Cv 0.5%
Hongkong
2,07
Magyar Nemzeti Vag Cv 4.4%
Hongarije
2,06
Wellpoint 144A Cv 2.75%
Verenigde Staten
2,06
 
Toename Afname Nieuw t.o.v. vorige portefeuille
Categorie: Converteerbare Obligaties Wereldwijd USD Hedged
 
Management
| | |
| --- | --- |
| Naam | Edmond de Rothschild Asset Management |
| Telefoon | +33 (0)1 401 725 25 |
| Website | www.edram.fr |
| Adres | 47, rue du Faubourg Saint-Honore |
|   | Paris   75008 |
|   | France |
Vestigingsland
Frankrijk
Juridische Structuur
FCP
UCITS
ja
Oprichtingsdatum
12/10/2009
Fondsadviseur
Edmond de Rothschild Asset Management
| | |
| --- | --- |
| Fondsmanager | Kris Deblander |
| Aanvangsdatum | 17/07/2009 |
| Start carrière | 2006 |
| | |
| --- | --- |
| Fondsmanager | Cristina Jarrin |
| Aanvangsdatum | 01/11/2010 |
Kosten
Aan- en verkoopkosten (Max. aankoop) 
Aankoopkosten (Max)
3,00%
Verkoopkosten
0.00
Switchen
-
Jaarlijkse kosten
Management Fee (Max)
1,40%
Total Expense Ratio
-
Aankoopinformatie
Minimaal beleggingsbedrag
Aanvang
1  Aandeel
Additioneel
1/1000000  Aandeel
Periodiek
-