Aberdeen Global Select Euro High Yield Bond Fund D1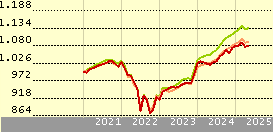 Fonds
114,2
14,9
-9,1
26,8
3,5
+/-Cat
60,4
1,7
-8,0
4,9
0,2
+/-Idx
38,1
0,8
-5,9
-0,5
-0,7
 
Index: Barclays Pan Euro HY Euro TR EUR
| | |
| --- | --- |
| Rendementen % | 22/05/2013 |
| YTD | 4,30 |
| 3 Jaar geannualiseerd | 8,84 |
| 5 Jaar geannualiseerd | 7,66 |
| 10 Jaar geannualiseerd | - |
| | | |
| --- | --- | --- |
| Dividendrendement |   | 7,59 |
| Dividendfrequentie |   | Monthly |
Benchmark
Benchmark van het fonds
JP Morgan Euro High Yield

Benchmark Morningstar
Barclays Pan Euro HY Euro TR EUR
Kerngegevens
Morningstar
Analyst Rating™
 
Morningstar Rating™
 
Morningstar Categorie™
 
Obligaties EUR High Yield
ISIN
 
LU0231456855
Koers
22/05/2013
 
GBP 5,46
Rendement 1 Dag
 
0,27%
Grootte Fonds (Mil)
30/04/2013
 
EUR 459,05
Grootte Fondsklasse (Mil)
22/05/2013
 
GBP 0,56
Aankoopkosten (Max)
 
6,00%
Total Expense Ratio
31/03/2012
 
1,52%
Verkoopkosten
 
-
Gesloten voor nieuwe beleggers
 
nee
Oprichtingsdatum
 
12/10/2006

Naam manager

Aanvangsdatum

Mark Sanders

01/03/2011

Ben Pakenham

01/08/2011

*  Deze rating en het rapport zijn uitgegegeven voor een andere fondsklasse van dit fonds. De rendementen, kostenstructuur en valutabeleid kunnen verschillen.
Beleggingsdoelstelling: Aberdeen Global Select Euro High Yield Bond Fund D1
The Fund´s investment objective is to maximise long-term total return in Euros. The Portfolio will consist primarily of high yield fixed interest securities denominated in Euros and issued by corporations or government related bodies. The Fund may also invest in other high yield fixed interest securities if in the opinion of the Investment Manager, such investment would be comparable with achieving the Fund´s investment objective.
| | |
| --- | --- |
| Waar belegt het fonds in?  Aberdeen Global Select Euro High Yield Bond Fund D1 | 30/04/2013 |
Vastrentend Portefeuillestatistieken
Effectieve Looptijd
-
Duration
-
Morningstar Style Box®
Stijl vastrentend
Assetverdeling
 
% Long
% Short
% Netto
Positie
Aandelen
0,00
0,00
0,00
Obligaties
85,16
0,00
85,16
Kas/geldmarkt
10,58
2,86
7,72
Overig
7,12
0,00
7,12
Aberdeen Global Select Euro High Yield Bond Fund D1
| | |
| --- | --- |
| Groei van EUR 1000 (EUR) | 30/04/2013 |
| | |
| --- | --- |
| | Fonds:  Aberdeen Global Select Euro High Yield Bond Fund D1 |
| | Categorie:  Obligaties EUR High Yield |
| | Index:  Barclays Pan Euro HY Euro TR EUR |
Rendement per kalenderjaar
30/04/2013
 
2007
2008
2009
2010
2011
2012
30/04
Rendement (%)
-1,74
-53,93
114,22
14,95
-9,10
26,78
3,50
+/- Categorie
0,04
-24,06
60,42
1,73
-8,02
4,88
0,19
+/- Index
0,23
-19,72
38,12
0,80
-5,89
-0,53
-0,65
% Ranking binnen categorie
54
99
1
20
96
15
47
Rendementen %
22/05/2013
 
 Rendement %
  +/- Categorie
  +/- Index
1 Dag
0,27
  0,25
0,14
1 Week
-0,38
  -0,44
-0,83
1 Maand
0,18
  -1,12
-1,84
3 Maand
3,43
  0,25
-0,77
6 Maand
9,69
  2,56
1,26
YTD
4,30
  0,45
-0,83
1 Jaar
21,91
  3,07
0,19
3 Jaar geannualiseerd
8,84
  -1,68
-3,51
5 Jaar geannualiseerd
7,66
  -1,20
-3,62
10 Jaar geannualiseerd
-
  -
-
 
Categorie: Obligaties EUR High Yield
Index: Barclays Pan Euro HY Euro TR EUR
Kwartaalrendementen
30/04/2013
 
Kwartaal 1
Kwartaal 2
Kwartaal 3
Kwartaal 4
2013
1,69
-
-
-
2012
13,19
-3,94
8,48
7,49
2011
4,72
-1,69
-16,47
5,71
2010
8,66
-3,56
7,85
1,71
2009
-12,45
69,07
34,33
7,73
2008
-16,66
6,14
-11,27
-41,31
 
 
 
Morningstar Rating™(Relatief t.o.v. Categorie)
30/04/2013

| | | | |
| --- | --- | --- | --- |
|   | Morningstar Rendement | Morningstar Risico | Morningstar Rating™ |
| 3 Jaar | Benedengemiddeld | Hoog | |
| 5 Jaar | Gemiddeld | Hoog | |
| 10 Jaar | - | - | Geen Rating |
| Overall | Gemiddeld | Hoog | |

 
Categorie :  Obligaties EUR High Yield
Meer over Morningstar Methodogie
Risico versus rendement
30/04/2013

 
Std Deviatie
14,24 %
3Jr Gemiddeld rendement
7,75 %

 
Statistieken moderne portefeuilletheorie
30/04/2013
30/04/2013
 
Standaard Index
Best Fit Index
 
Barclays Pan Euro HY Euro TR EUR
  BofAML European Ccy HY Constnd TR HEUR
3 Jr R²
88,25
89,06
3 Jr Beta
1,27
1,28
3 Jr Alpha
-5,28
-5,91
 
Stijl vastrentend
30/04/2013

Morningstar Style Box®
Stijl vastrentend

| | |
| --- | --- |
| Omvang | Rel t.o.v. Cat |
| Tot. Marktwaarde (mil.) | EUR 463 |

Verdeling naar looptijd
%
1 tot 3 jaar
9,92
3 tot 5 jaar
27,04
5 tot 7 jaar
39,78
7 tot 10 jaar
9,01
10 tot 15 jaar
0,00
15 tot 20 jaar
0,00
20 tot 30 jaar
2,92
Meer dan 30 jaar
11,33

| | |
| --- | --- |
| Effectieve Looptijd | - |
| Duration | - |

Verdeling naar kredietkwaliteit
%
 
 
%
AAA
0,00
 
BB
19,85
AA
0,00
 
B
56,51
A
0,00
 
Below B
11,28
BBB
4,77
 
Geen Rating
7,59
 
Categorie: Obligaties EUR High Yield
 
% Long
% Short
% Netto
Positie
Aandelen
0,00
0,00
0,00
Obligaties
85,16
0,00
85,16
Kas/geldmarkt
10,58
2,86
7,72
Overig
7,12
0,00
7,12
| | |
| --- | --- |
| Top 10 Posities | 30/04/2013 |
| | |
| --- | --- |
|   | Portefeuille |
| Totaal aantal aandelenposities | 0 |
| Totaal aantal obligatieposities | 78 |
| % van vermogen in Top 10 posities | 24,78 |
Naam
Sector
Land
% van het vermogen
Aberdeen Liquidity Fund (Lux) Euro Z1
Luxemburg
3,24
Cirsa Fdg Lux 8.75%
Luxemburg
2,85
Ineos Grp Hldgs 7.875%
Verenigd Koninkrijk
2,70
Bombardier 6.125%
Canada
2,70
Wienerberger Ag 6.5%
Oostenrijk
2,57
Mapfre Sa 5.921%
Spanje
2,37
Inaer Aviation Fin 9.5%
Ierland
2,20
Boats Inv (Neth) FRN
Nederland
2,20
Cerba European Lab 7%
Frankrijk
1,98
Lbg Cap 2 8.875%
Verenigd Koninkrijk
1,97
 
Toename Afname Nieuw t.o.v. vorige portefeuille
Categorie: Obligaties EUR High Yield
 
Management
| | |
| --- | --- |
| Naam | Aberdeen Global Services S.A. |
| Telefoon | (352) 46 40 10 820 |
| Website | www.aberdeen-global.com |
| Adres | 2b, rue Albert Borschette |
|   | Luxembourg   1246 |
|   | Luxembourg |
Vestigingsland
Luxemburg
Juridische Structuur
SICAV
UCITS
ja
Oprichtingsdatum
12/10/2006
Fondsadviseur
Aberdeen International Fund Managers Ltd
| | |
| --- | --- |
| Fondsmanager | Mark Sanders |
| Aanvangsdatum | 01/03/2011 |
| | |
| --- | --- |
| Fondsmanager | Ben Pakenham |
| Aanvangsdatum | 01/08/2011 |
Kosten
Aan- en verkoopkosten (Max. aankoop) 
Aankoopkosten (Max)
6,00%
Verkoopkosten
0.00
Switchen
1,00%
Jaarlijkse kosten
Management Fee (Max)
1,25%
Total Expense Ratio
1,52%
Aankoopinformatie
Minimaal beleggingsbedrag
Aanvang
-
Additioneel
-
Periodiek
-